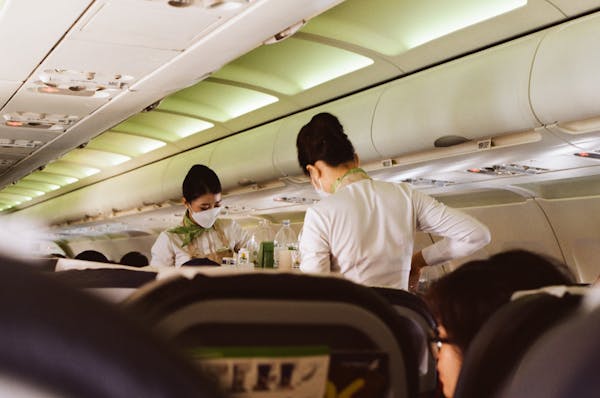 Emirates Cabin Crew Jobs in Pakistan 2023: Your Gateway to a High-Flying Career
Emirates cabin crew jobs in pakistan
Emirates Cabin Crew Jobs in Pakistan 2023: Your Gateway to a High-Flying Career
Are you dreaming of a glamorous career that takes you to new heights, quite literally? Look no further than Emirates Cabin Crew Jobs in Pakistan 2023. As one of the world's leading airlines, Emirates offers exceptional opportunities for individuals seeking a rewarding career in the aviation industry. In this comprehensive article, we will delve into the enticing world of Emirates cabin crew jobs, exploring the requirements, benefits, and the unparalleled experiences that await you. Discover how you can soar above the clouds and make your mark in the aviation industry.
The Allure of Emirates Cabin Crew Jobs
1. Unparalleled Prestige and Glamour
Emirates, renowned for its world-class service and luxurious fleet, has gained a reputation for setting the standard in the aviation industry. By joining the Emirates cabin crew, you become part of a prestigious team that consistently delivers exceptional customer experiences. Whether you're serving delectable cuisine at 40,000 feet or ensuring passengers' safety and comfort, you'll be at the forefront of creating unforgettable moments.
2. A Gateway to International Travel and Cultural Experiences
Imagine waking up in a different city each day, exploring diverse cultures, and immersing yourself in the wonders of the world. As an Emirates cabin crew member, you have the opportunity to travel to various global destinations, broadening your horizons and creating lifelong memories. From the bustling streets of New York to the exotic beaches of Bali, your work becomes an adventure in itself.
3. Competitive Remuneration and Benefits
Emirates values its employees and provides a generous compensation package. Alongside a competitive salary, you'll receive attractive benefits such as free accommodation in Dubai, comprehensive medical coverage, and exclusive travel discounts for you and your family. The airline also offers excellent career progression opportunities, enabling you to reach new heights in your professional journey.
The Pathway to Joining Emirates Cabin Crew
1. Eligibility Criteria
To embark on a rewarding career as an Emirates cabin crew member, you need to meet specific eligibility criteria. These typically include:
Minimum age of 21 years
Height of at least 160 cm (5'3") with an arm reach of 212 cm (6'11")
Fluency in English (both spoken and written)
Clear complexion, with no visible tattoos while wearing Emirates uniform
Excellent personal presentation, style, and image
2. Application Process
Emirates follows a rigorous selection process to ensure they recruit the best candidates. The application process may include the following stages:
a. Online Application: Begin your journey by submitting an online application through the Emirates career portal. Provide accurate information and showcase your skills, experiences, and passion for customer service.
b. Assessment Day: If your application meets the requirements, you may be invited to an assessment day. This phase includes group activities, English language tests, and interviews to assess your suitability for the role.
c. Final Interview: If you successfully pass the assessment day, you will progress to the final interview stage. Here, you'll have the opportunity to demonstrate your interpersonal skills, customer service abilities, and passion for the aviation industry.
3. Training and Development
Once selected, you will undergo an intensive training program at the Emirates Aviation College in Dubai. The comprehensive training covers various aspects of cabin crew responsibilities, including safety procedures, emergency protocols, in-flight service, and cultural sensitivity. The training equips you with the knowledge and skills necessary to excel in your role and provide exceptional service to passengers.
Life as an Emirates Cabin Crew Member
1. Dynamic and Diverse Work Environment
Working as part of the Emirates cabin crew means embracing a dynamic and diverse work environment. You'll collaborate with colleagues from around the world, gaining exposure to different cultures and perspectives. This multicultural experience not only enhances your personal growth but also fosters an inclusive and vibrant workplace.
2. Career Progression Opportunities
Emirates is committed to nurturing talent within its organization. As a cabin crew member, you have access to a range of career development opportunities, including specialized training programs, mentorship, and the chance to advance into leadership roles. The airline recognizes and rewards excellence, empowering you to shape a successful and fulfilling career.
3. A Day in the Life of an Emirates Cabin Crew Member
From the moment you step on board, your role as an Emirates cabin crew member is multi-faceted. You'll provide exceptional service, ensuring the comfort and safety of passengers throughout the flight. Your responsibilities may include welcoming passengers, conducting pre-flight briefings, serving meals and beverages, and responding to passengers' inquiries with warmth and professionalism. Each day brings new experiences and challenges, making your journey as an Emirates cabin crew member truly exhilarating.
Join Emirates Cabin Crew Jobs in Pakistan 2023 and Soar to Success!
Emirates Cabin Crew Jobs in Pakistan 2023 present a unique opportunity to embark on an extraordinary career filled with prestige, glamour, and unparalleled experiences. By joining the Emirates cabin crew, you become part of a world-class team that consistently delivers exceptional service. Experience the thrill of international travel, enjoy attractive remuneration and benefits, and unlock limitless opportunities for personal and professional growth.
Ready to take flight? Visit the Emirates career portal today to discover how you can join the Emirates family and embark on a high-flying career!