New Jobs provincial assembly of sindh jobs 2023 advertisement Government of Pakistan announced new vacancies in Provincial Government
Assembly Sindh 2023. Assistant Secretary Admin Provincial Assembly Sindh is
accepting applications from suitable candidates for more than 200 posts.
Candidates with relevant field diploma holders and qualifications have the
best chance to apply.latest govt jobs in sindh assembly jobs.
Sindh Provincial Assembly Job Vacancies 2023 apply online
Today govt sindh assembly jobs.The Provincial Assembly needs to hire qualified people on a permanent
basis. As it announces new job opportunities for qualified candidate. All
citizens of Sindh province can apply. Interested candidates can apply for
any seat.BPS-05 to BPS-19.
Here is the details of all posts fixed eligibility and total seats.

Sr.No

Jobs Title

Basic Pay Scale

Qualification

Total Vacancies

1.

Consultant PAC

BPS-19

Master/Bs/Masters

01

2.

Assistant Secretary

BPS-18

BS/ Masters

05

3.

Director Information Technology

BPS-18

BCS/MCS/MIT/ Master's Degree in Computer Science

01

4.

Reporter

BPS-18

BS/Masters

05

5.

Assistant Director IT

BPS-17

BS/Master's Degree in Information Technology

03

6.

Assistants Secretary

BPS-17

Graduate

05

7.

Assistant Director Network

BPS-17

BS/BCS/MCS

02

8.

Assistant Engineer Electrical

BPS-17

Bachelor of Engineering Electrical

04

9.

Assistant Engineer Electronics

BPS-17

Bachelor of Engineering Electronics

04

10.

Assistant Director Monitoring

BPS-17

Graduate

01

11.

Editors of Debates

BPS-17

Graduate

01

12.

Law Officer

BPS-17

LLB

01

13.

Public Relations Officer

BPS-17

Graduate

02

14.

Reporter

BPS-17

Graduate

02

15.

Assistant

BPS-16

Graduation

25

16.

Assistant Protocol

BPS-16

Graduation

04

17.

Assistant Recording Office

BPS-16

Graduation in a relevant field

01

18.

Supervisor

BPS-16

Law Graduate

01

19.

Sub-Editor of Debates

BPS-16

Graduate

02

20.

Assistant Security Officer

BPS-16

Graduation

02

21.

Assistant Librarian

BPS-16

Library Science Graduate

03

22.

Photographer

BPS-14

Diploma in photography

01

23.

Cameraman

BPS-14

Certified in relevant field

02

24.

Junior Scale Stenographer

BPS-14

Intermediate

28

25.

Sub-Engineer


Electrical


BPS-14

03-Years Diploma in relevant field

10

26.

Sub Engineer Electronics

BPS-14

03-Years Diploma in relevant field

02

27.

Photographer

BPS-13

Certified in relevant field

01

28.

Data Entry Operator

BPS-12

Intermediate

01

29.

Junior Clerk

BPS-11

Intermediate

52

30.

Lady Security Assistant

BPS-11

Intermediate


Physically Fit


01

31.

Senior Proof Reader

BPS-11

Intermediate

01

32.

Junior Translator

BPS-11

Intermediate

05

33.

Caretaker

BPS-09

Intermediate


Experience


14

34.

Technician

BPS-09

Intermediate

01

35.

Track Controller

BPS-09

Intermediate

04

36.

Record Clerk

BPS-09

Intermediate

08

37.

Security Assistant

BPS-09

FA/F.Sc

20

38.

Security Supervisor

BPS-09

Intermediate


Physically Fit


10

39.

Proof Reader

BPS-07

Intermediate

03

40.

Junior Security Assistant

BPS-07

Intermediate


Physically Fit


19

41.

Watch and Ward Assistant

BPS-07

Intermediate

02

42.

Air Conditioning plant Operator

BPS-06

DAE Electrical Technology

10

43.

Audio System Operator

BPS-05

Matric

01

44.

Qaari

BPS-05

Hafiz e Quran

04

45.

Traffic Controller Assistant

BPS-05

Matric

10


New Jobs provincial assembly of sindh jobs 2023 advertisement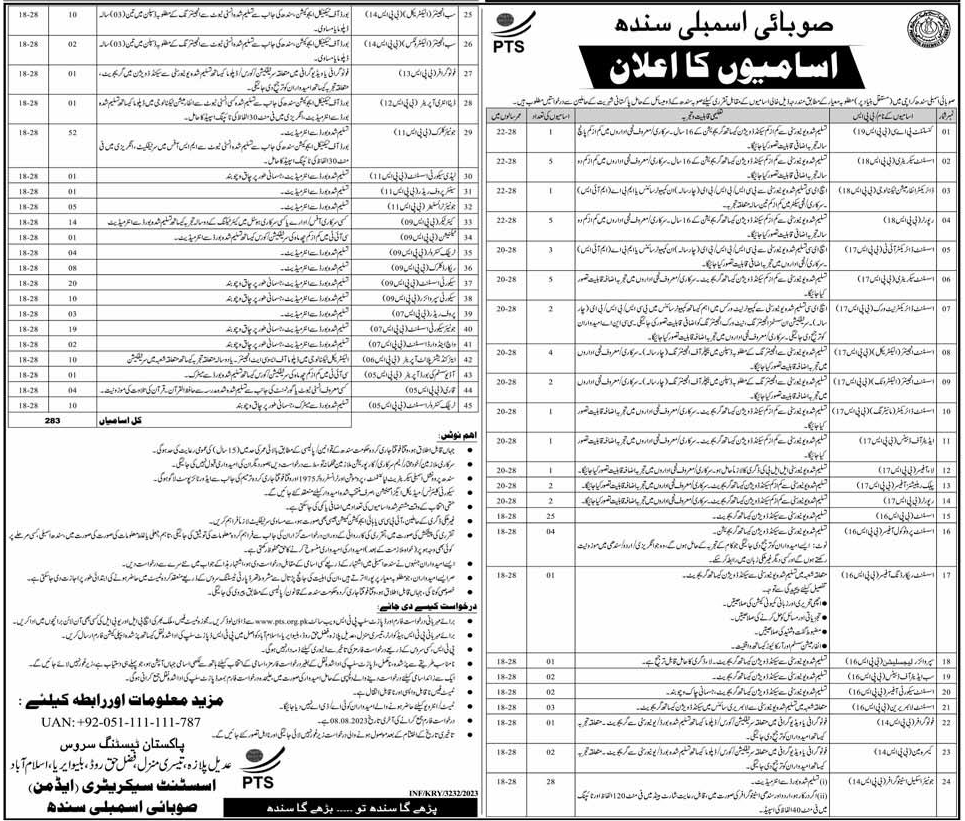 New Jobs provincial assembly of sindh jobs 2023 advertisement