REQUIRED FOR SAUDI ARABIA TOTAL FREE COST — Apply now urgent jobs in saudi arabia Latest Jobs in SAUDI ARABIA2023 Our principal urgently required the following Muslim staff for their Makkah and jaddah projects online apply for jobs in saudi arabia
Post Name & Qualification details of online apply for jobs in saudi arabia
FM Operator (Boys School)
Qty: 21 1,900-2,000SR
+300 FOOD
Diploma holder, MEP technicians (HVAC, ELE/ELV/PLUMB/MECH)
HVAC Technician (CM/PM/RM)
IT Diploma Holder, HVAC – (VRV – PACU)
Electrical Technician (CM/PM/RM)
Diploma Holder, Low Voltage/control panel /.etc
FLV Technician (CM/PM/RM)
Qty: 12
1,900-2,000SR
+300 FOOD
Qty: 04 1,900-2,000SR
+300 FOOD
Qty: 04 1,900-2,000 SR
+300 FOOD
IT Diploma Holder, Low current/Public address/BMS/Audio/Photovoltaic system Master Antena television systems
Plumber (CM/PM/RM)
Qty: 10 1,900-2,000SR
+300 FOOD
HDPE PIPE welding/repairs and other relavent exp of plumbing works Muslim (Diploma ITI & Any Other trade certificates)
+300 FOOD
Mechanical Technician (CM/PM/RM) Qty: 02 1,900-2,000SR IT Diploma & Any Other trade certificates Axial fans / pump repairing / flanging systems / Arc welding alignments/bearing replacements /etc
Gypsum Carpenter
CM/PM/RM Qty: 07 1,900-2,000SR Handy Man Mason
+300 FOOD
Carpenter: Repairing of chairs, tables, cubboarards, window glasses sealing, door, gasket fixing, lock, locking system repairs alignments and other relevant works. Mason must have experience of Tile, Grouting, Marble & interlock fixing etc
Painter (CM/PM/RM)
Qty: 03
1,900-2,000SR
+300 FOOD
Experience in mixing with proper concentrations of all type of paints (Textures, Epoxy, loterior & Exterior, PVC-furnitures polish & varnish area measurements
Tile Mason
Hands on experience in bond/mechanical fixing
Qty: 07
1,900-2,000 SR
+300 FOOD
Jobs Details Are given below:
Qualification And Experience Required :
Technical and Dipoloma with 2 years Experience Required
How To Apply Vacancy in Saudi Arabia Company:
Terms & conditions:
All candidates must have communication skills of writing, speaking & understand English.
5 to 8 years of experience is needed in relevant field, must have knowledge of methods, equipment and materials used in installations, keep all work areas, offices tidy and clean.
Company will provide:
accommodation, transportation & medical facilities as per Saudi Labour Laws. Candidates Send their detailed Cv's along with all educational & Experience Certificates / Degrees immediately at yours earliest possible time with recent photograph through e-mail adress or courier services.
CONTRACT: 2 YEARS
DUTY: 8 HOURS
Jobs Advertisements of Online apply for jobs in Saudi Arabia :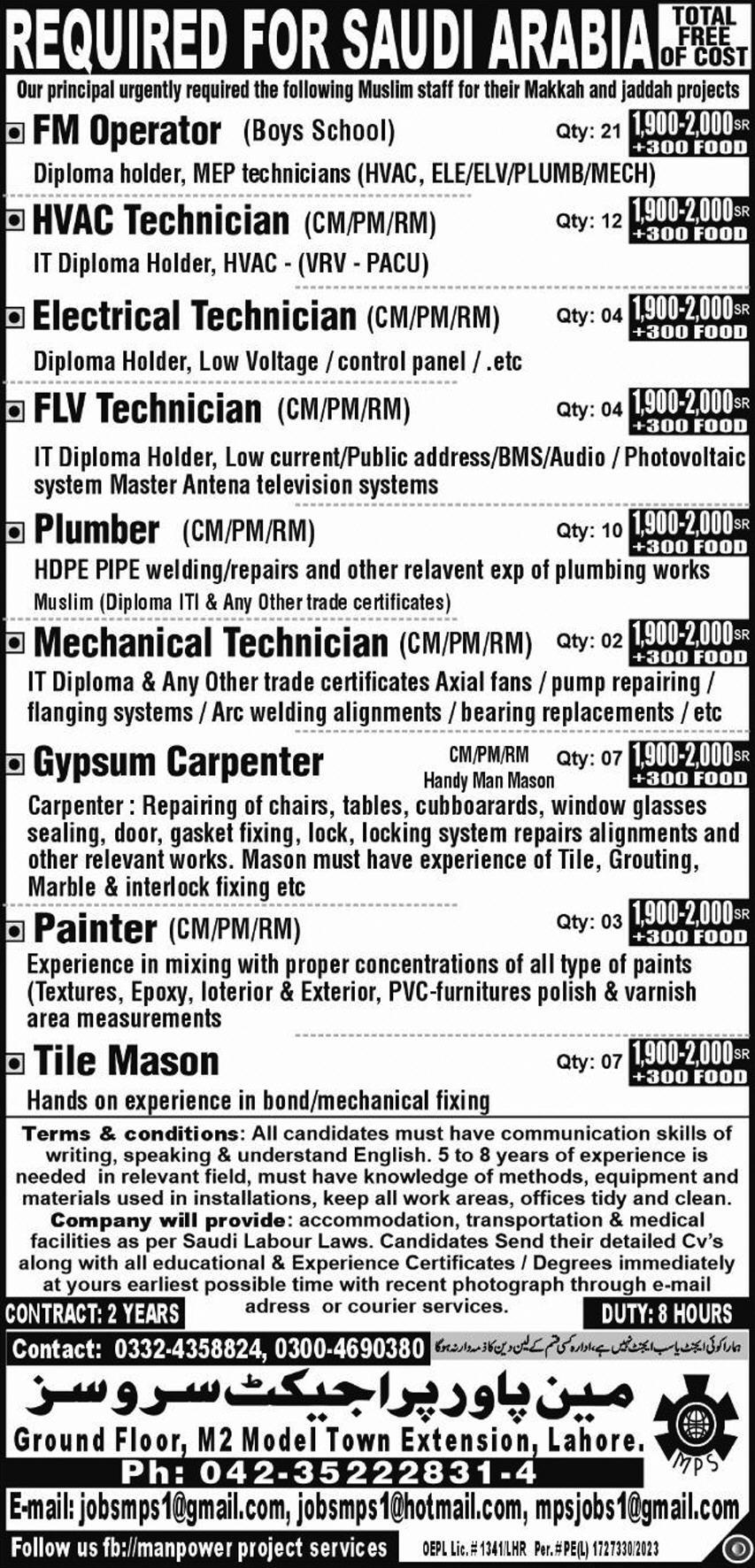 REQUIRED FOR SAUDI ARABIA TOTAL FREE COST — Apply now urgent jobs in saudi arabia